2.1 Key features of PBL
PBL involves learning through tackling problems. Although the problems, or tasks, may not always have a 'solution', PBL nevertheless provides a rich learning environment in which students identify what needs to be studied and learnt from examining the problems confronted (Gibbs, 1992). The problems are used as a tool to achieve both the required knowledge base and the skills to 'solve' them (Barrows, 1986). The basis of PBL is that students learn by doing. It is a student-centred system whereby students, working within small groups, generate the information necessary to respond to, or solve, a specific problem or task. One attractive feature of PBL in my experience is that it helps develop in students both subject-specific and transferable skills (Figure 1).
Subject-specific skills are developed directly through problem design, while transferable skills are developed indirectly via the PBL process itself.
Figure 1 Problem-based learning and skill development
PBL helps to develop
Subject-specific skills in economics
Using diagrams and abstract models, acquiring and using relevant data, assessing government policies, analysis of real-world issues, etc.
Transferable skills
Time management, teamwork, independent learning, decision taking, problem solving, communicating ideas and results, etc.
A PBL environment will normally incorporate the elements depicted in Figure 2. This cycle is repeated for each task. When implementing a PBL environment, one may adopt a 'partial' or 'full-format' model (see section 5 for further details).[note 4] In a 'partial' PBL environment, formal lectures are retained and PBL is used to organise the weekly tutorial sessions in support of lectures. In a 'full-format' PBL environment, there are no lectures and the learning environment is driven entirely by PBL methodology.
Figure 2 The PBL process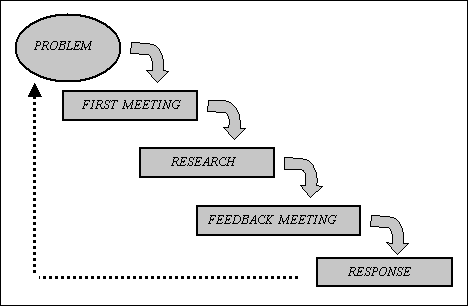 The problem/task
When designing tasks, the aim is to make students primarily responsible for acquiring and assimilating the information necessary to solve them. In a PBL environment the teacher relinquishes the role of 'expert' and assumes the role of facilitator.[note 5] Student learners must adapt to a learning environment in which there is no 'expert' information source. The teacher designs tasks so as to develop the learning outcomes appropriate to the target learner group. I normally design tasks that incorporate data acquisition, model manipulation and evaluative components (the latter may relate to a particular public policy issue, theoretical model or literature review). In this way, the tasks 'drive' students to encounter (and struggle with) subject-specific concepts and issues (Thomas, 2000). The design of PBL tasks for economics students, along with examples, is discussed in section 3.
First meeting
Students are organised within small groups that work independently from other groups throughout the teaching term. Since I usually design tasks that comprise different components, I use groups comprising 6–8 members. During the first meeting the PBL group discusses the problem for the first time. The meeting is structured to incorporate the following features based upon the 'seven-jump' procedure for handling tasks within PBL groups (Bouhuijs and Gijselaers, 1993; see also the guidelines given to students in relation to the UK housing task illustrated in section 3):
Initial discussion to ascertain 'first-impression' views of the problem.
Brainstorming session to identify relevant issues and essential information required to 'solve' or respond to the problem.
Identification of specific study tasks (library research, etc.) to be undertaken by group members before the 'feedback' meeting.
Allocation of study tasks to individual group members (the number of students working on a particular study task will also be determined at this stage).
For each task the team should select a different task leader and 'recorder'. The task leader is responsible for keeping the discussion going and ensuring that all members participate in team discussions. The task recorder has the responsibility of recording the research responsibilities delegated to members during the first meeting and for reading out this information at the start of the feedback meeting. The students are responsible for all decisions arising from the above activities. The facilitator should not interfere with the governance of group procedures.
Top Tip:
Groups with 6–8 members are easily managed and allow members to work in pairs (if necessary) during the research phase. Groups with fewer members can be successful, particularly with level 2 or 3 students, but the workload on individual members is heavier.
Research
Between the first and feedback meetings associated with a particular problem or task, group members undertake the study task allocated to them at the first meeting. This may entail providing a summary and assessment of relevant journal articles, trawling internet sources, acquiring and tabulating relevant statistical information, etc. Sufficient time must be made available between first and feedback meetings to facilitate research. One-week research periods are used at the University of Ulster (see section 5 for suggestions on designing a PBL environment).
Feedback session
Members report back the results of their allocated research activity to the group (after the task recorder has reminded the group of individual responsibilities). Using this information, the group formulates an agreed response to the problem.
Group's response
This can take various forms. It may be a formal presentation using OHP facilities or a written report. The facilitator requires some form of response so that formative feedback can be provided. Assessment may also be summative, in that the response is graded and contributes to overall assessment for the module. Issues and suggestions concerning the assessment of student responses to PBL tasks are considered in section 4.
2.2 Arguments for the use of PBL
Research findings relating to PBL
The use of PBL as a teaching method originated within a medical and health-care context during the 1960s. Although it is now implemented across a wide range of disciplines, PBL research literature is still dominated by medical-based applications. For an assessment of PBL, particularly when compared with conventional lecture-based teaching, see the extensive literature reviews undertaken by Albanese and Mitchell (1993), Vernon and Blake (1993) and Dochy et al. (2003).
Relative to conventional lecture-based methods in which information is transferred from teacher to student, the research literature suggests that:
PBL fosters a deeper approach to learning (see also Gibbs, 1992).
PBL promotes more versatile studying methods and PBL students are more likely to use the library and library resources to study.
PBL develops greater knowledge retention and recall skills.
PBL students tend to exhibit stronger knowledge application skills (according to Dochy et al. (2003), this is a very strong and robust result to emerge from the literature).
From a teacher perspective, PBL appears to be a very satisfying method of teaching.
When comparing the relative performance of two student cohorts studying introductory macroeconomics under conventional lecture-based and PBL methods, van den Bosch et al. (2004) also found that the PBL students exhibited better knowledge application skills than the conventionally taught cohort. According to these authors, PBL promotes a structuring and elaboration of knowledge that develops a more accessible knowledge base.
In terms of the relative knowledge coverage acquired through PBL and conventional lecture-based teaching (as distinct from the application of knowledge to real-world situations), the literature suggests rather mixed results that appear to depend upon the scope of PBL implementation. Based on their literature review, which included only one non-medical research paper, Dochy et al. (2003) found that if the whole curriculum is PBL based, then it is likely that conventionally trained students will have covered, or have been introduced to, more knowledge and facts than PBL-trained students. This, of course, must be weighed against the possibility that conventionally trained students may be less able to retain and apply their wider knowledge base relative to PBL students. The possible differential in knowledge coverage between lecture-based and PBL teaching methods becomes negligible when PBL forms only part of the curriculum.
Finally, one aspect of PBL that requires further study is the possibility that PBL students become too dependent on a small-group environment (Albanese and Mitchell, 1993). PBL students may lack the confidence and the skills to work alone in solving/tackling problems. Clearly any negative effect of excessive reliance on small-group activity will also depend on the scope of PBL implementation within the curriculum. This may also be an issue that is more relevant within a medical rather than an economics or business context.
The PBL experience at the University of Ulster
The comments below are based upon my own experiences of introducing PBL within a TLS-dominated curriculum to teach economics at the University of Ulster in a variety of teaching contexts that has included full-time/part-time students, specialist economics/non-specialist students and first/final-year students. Many of the experiences noted below are consistent with the discussion provided in Gibbs (1992) on how PBL can help develop a deep approach to learning.
Teacher perspective. Students are normally expected to spend additional self-study time for each contact hour with the teacher. At Ulster, for example, 25 per cent of total designated module hours are 'contact' hours during which students meet teachers. Under the more traditional lecture–seminar format, students who are unable to manage the remaining 75 per cent non-contact time, perhaps due to weak independent learning skills, may waste excessive non-contact time before the teacher becomes aware that a student is having difficulty with the module. A key advantage of PBL is that it can help students manage 'non-contact' hours more effectively, since it is during these hours that PBL students are required to generate information for the group within a given time-scale (one week at Ulster). The PBL tasks designed by the teacher determine the learning activities undertaken by students during non-contact hours. This helps to reduce wastage of non-contact hours.
Another key advantage of PBL is that students are required to communicate and discuss the subject with other students on a regular basis. This feature of PBL, which requires students to 'talk economics' throughout the teaching term, is particularly attractive when, as at Ulster, one is faced with a student culture that tends to adopt a passive, non-communicative stance under more traditional seminar formats. Such students, many of whom lack the confidence to participate in a teacher-led environment, prefer the teacher to do all the talking and invariably, after an initial struggle, this tends to be the outcome in a conventional seminar format. In this context it is interesting to note that according to the latest available statistics (HESA, 2009) 46.5 per cent of the intake of full-time undergraduates to the University of Ulster fall within the four lowest NS-SEC socioeconomic groups (the UK average is 29.5 per cent). This characteristic of the student population was also highlighted in the QAA Subject Review Report for Economics at Ulster (QAA, March 2001, para. 23), and may help to explain the passive stance taken by many students at Ulster within a conventional lecture–seminar environment.
Well-designed PBL tasks also encourage students to become 'information-seekers', undertaking library research and accessing varied information sources – texts, journals, the internet and key statistical sources (i.e. education, health, labour market statistics, etc). This not only helps to develop important information-seeking skills in students, but also encourages greater diversity in student responses to economic issues compared to what may be expected when the teacher is the primary information source.
When PBL is used in 'full format', as described in section 5 (there are no formal lectures), students are obliged to respond to a number of tasks that encompass the full syllabus. Students cannot choose to specialise in the first few topics for examination purposes (and ignore the rest), since PBL requires them to continue working and generating information over all topics. One of the reasons why PBL imposes a severe work regime on students is that it encourages a fuller coverage of the syllabus than the TLS format.[note 6]
Finally (and according to students themselves), there are externalities associated with PBL. The independent learning, research and time-management skills that are developed within a PBL-based module help students study more effectively in other, non-PBL modules. This suggests that the sooner students experience PBL methods within the curriculum, the greater will be the potential 'externality' effect elsewhere – in other words, some PBL within the curriculum is better than none.
Student perspective. Every student introduced to PBL at the University of Ulster has an opportunity to comment upon his or her PBL experience. A sample of these comments is included in section 5 (where they are discussed in the context of the particular PBL environment encountered).
PBL requires students to work within strict time limits. There is also the additional responsibility of having to contribute to team effort. In the sample of student comments included in section 5, students emphasise the benefits that result from the shared workload and the exchange of ideas that are typical features of PBL. Despite the constant pressure of work, a significant majority of students indicated that their PBL experience was positive rather than negative. Students who disliked PBL cited two reasons – the high workload and a preference for lectures in which the teacher is a primary source of information.[note 7]
The bottom line: is PBL worth the effort?
Establishing a successful PBL environment is hard work, requiring written documentation for students, preparation of facilitators, design of suitable PBL tasks, monitoring and assessment of group activities and, very likely, having to manage resources (room layout, for example) that are not designed for group activities.
PBL can also be stressful for both teacher and students, particularly when it is introduced to final-year students who are accustomed to a TLS-dominated environment. In these circumstances, teachers must have confidence and belief in what they are trying to achieve if they are to coax the students along. It is at this point one realises that lecturing is a much easier alternative.
Despite the hard work and occasional periods of tension, I continue to use PBL. As a teacher it is a privilege to witness a dynamic group of students working on their own initiative, fired with enthusiasm, striving to solve an economics-related problem. Such groups become extremely efficient at organising the learning environment, arranging additional meetings during non-contact periods and exchanging information via summary reports, photocopies, e-mail and fax (in the case of part-time students). This is active student learning at its best and the effort required to achieve it is worthwhile.
2.3 Recent PBL innovations at the University of Ulster
The following innovations have been very successful at Ulster, and are worth serious consideration for anyone contemplating introducing PBL.
Use of final year economics undergraduates to facilitate first year economics PBL groups
Funding from the Economics Network Learning and Teaching Development Project scheme during 2006-07 permitted the use of final year economics students as PBL group facilitators on the first year microeconomics programme. Depicted below are the views of two final year facilitators, written during the final week of term prior to sitting their own examinations for the BSc (Econ). The facilitators took the same module 4 years previously under a traditional lecture-seminar format, and had the same teacher as the current first year students under a PBL format. They were, therefore, ideally placed to comment upon the new PBL regime (see Figure 3).
Figure 3: Use of final year economics undergraduates to facilitate first year economics PBL groups
"The group seemed more willing to take time to explain the basic concepts to individuals who needed help, which in turn seemed to encourage anyone who could not first grasp key concepts to identify problem areas for discussion at the next meeting. It was also surprising to me to note the quality as well as the quantity of work that was completed on time, and this seemed to improve as the weeks progressed. The "positive externalities" included a number of very important aspects of student life, which I felt were often not addressed fully. The development of real, tangible, transferable skills through dialogue, discourse and discussion meant that students better appreciated how to communicate more effectively."
Malcolm Campbell BSc (Econ), facilitator on the first year PBL project, 2006-07
"I liked the emphasis PBL placed on self-study and the penalty system for team members who did not participate. If students did not do their work the group could penalise them and award 0% if necessary. On the whole I do believe that PBL did make the students more committed to, and interested in, the subject compared to traditional class lectures. The most important thing is the attitude that students take to the new working arrangements - it is important that no individual is allowed to drag a group into inactivity."
Paul Keen BSc (Econ), facilitator on the first year PBL project, 2006-07
"I think this module has definitely enhanced my employment prospects. If I was to write about my experiences in other modules, which were all lectures, it is questionable if they have actually developed my skills.
However with this module I can say that I have improved in many aspects. My teamwork and leadership skills have certainly improved. In most jobs you are inevitably going to be part of a team. This module has certainly given me more confidence in a group situation.
This module has also forced me to be organized, as I have to do the work or else I would be letting my group down. This has instilled good discipline which I hope would carry over to a job.
Another aspect of this module was the presentations. I have done presentations before, but never as involved as those required for this module. At the same time I really enjoyed doing the presentations and was calm and relaxed. I have no doubt that I felt this way because I was comfortable being up with my group members with whom I have formed a bond.
Hopefully I can carry over these benefits into employment." Year 1 student, Microeconomics 1 PBL project, 2006-07
(comments were not edited by the author)
A primary objective of student-centred learning is to develop confidence in students to make decisions. The measures noted in Figure 4 were introduced for this purpose. If students can be encouraged to take simple decisions on their own initiative, they will eventually develop the confidence to take more difficult decisions.
Figure 4: Extending the limits of student self-governance
This is achieved in two ways:
For example, suppose there are 6 themes, or topics, forming the syllabus (Y=6), all of which are represented in the final examination, and candidates must answer any 3 questions. In the first week of class PBL groups are formed and each group has full information on all the topics in the syllabus including all the learning resources associated with each topic. If PBL groups have to select any 4 topics (X=4), they are covered for the examination. In addition, 2 of the selected topics have to be orally presented (P=2) and the remaining 2 have to be submitted in the form of a written report (W=2). This 'enhanced' PBL regime requires PBL groups to begin functioning from the outset, since in the second week each group must (i) select the first topic and (ii) decide whether to respond in the form of W or P.
The above scenario adds an edge to the group format by introducing the need to make important decisions at the beginning of the teaching period. Despite this early pressure to make team decisions, this format is popular with students since it introduces a degree of freedom and flexibility to the learning regime.
Allowing PBL groups to determine X, W and P has proved to be a very successful PBL format on a "labour market" module offered on the final year of the business studies and economics (minor) programmes at the University of Ulster
SOME FACTS
PBL v LECTURES on the Microeconomics I module, 2007-2008 and 2008-09
Following the 2006-07 PBL mini-project experience, in the 2007-08 academic year the microeconomics I class was split, with half the students following a PBL format, while the remaining half were taught using the traditional lecture-seminar format (TLS). The syllabus content and teacher were the same for both classes. All students sat the same end-of-year examination. In the 2008-09 academic year all students were taught by using the TLS format only. Again the syllabus content and teacher were the same over both academic years (and, indeed, the same as the 2006-07 academic year). Prior to 2008-09 all students were registered on the single honours BSc (Economics) programme (S); in 2008-09 students registered on the new BSc (Economics Major) programme (M) took the microeconomics module for the first time. One-third of each year on the economics major programme comprises a non-economics discipline.
% Failure Rate (Exam)

% Median Mark

(Exam)

% Failure Rate

(Coursework)

% Attendance

Rate

PBL students 2007-08

15

55

8

95

TLS students 2007-08

53

41

33

< 60*

TLS (S) students 2008-09

18

45

24

74*

TLS (M) students 2008-09

33

43

33

75*
* The attendance rates for those failing the examination was < 50% for all TLS classes.