Ros O'Leary, Deputy Director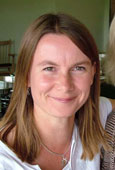 Ros has been a Deputy Director of the Economics Network since it was established (as Economics LTSN) in January 2000. Since 2006 she has had responsibility for strategy and planning, managing the Network's team, managing the budget, reporting and evaluation. She also leads on the Network's initial and continuing development programme, and coordinates the Network's collaborative research project, Economics's Students Changing Expectations.
Previously (2000-2006), Ros was Head of eLearning at the University of Bristol and has led and taught modules on the University's Education, Technology and Society Masters and its Teaching and Learning in Higher Education and Teaching and Learning for Health Professionals Programmes.
Ros has a degree in Economics and an MA in Education; she is a Fellow of the Higher Education Academy and is currently undertaking a doctorate in education, exploring the nature of discipline networks and their impact on higher education teaching development.
Contact:
Ros O'Leary
The Economics Network
University of Bristol
8-10 Berkeley Square
Bristol BS8 1HH

Phone: +44 (0)117 331 4440
Fax: +44 (0)117 331 4396
Email: ros.oleary@bristol.ac.uk