The Handbook
for Economics Lecturers
5.3 Setting up a full-format PBL environment
Although partial PBL is a valuable experience, the full-format PBL environment is more satisfying for the teacher and students. The reader who has successfully experimented with PBL should aim for the full format. The absence of the lecture removes a constraining feature on the focus and organisation of the problem-based learning environment. PBL is particularly suited to final honours teaching, where the potential for generating focused teamwork is greatly enhanced. Group meetings follow the same procedures as under the partial system, except that groups now meet for 2 hours per week rather than 1 hour. It is also possible to require a more demanding response from students: in the cases described below, students were asked to prepare a written group report of between 1500 and 2000 words in response to each task.
Two examples are discussed in this section, both based on actual teaching experiences with level 3 modules. In both cases, 3 contact hours are provided (giving a 2-hour lecture and a 1-hour seminar under the TLS system). In the first example there are only 15-20 students taking the module, and thus 2–3 PBL groups can be formed. In the second, more demanding example, there are 9–10 PBL groups. The perceptions of students who have experienced a full-format environment are also provided below.
The system depicted in Figure 9 generates an accumulated workload that exerts significant time and work pressure on students – this, one might argue, simulates the real-world working environment. Under this system a much more subtle understanding and development of group dynamics can be developed in students. These are skills that are valued highly by employers. In many instances, students have reported this outcome following job interviews undertaken after completing the module.
In the system illustrated in Figure 9, each PBL group follows the same structure. This organisation assumes that there are seven tasks (this can be varied), a one-week research period and written responses to each task. This seven-task system imposes a hard working regime on students. However, a number of 'escape routes' are possible if it is felt that students are under too much pressure. First, the system illustrated does not use the third hour timetabled each week. This can be used to provide additional time for PBL activities, including longer group discussions or quite separate activities. In my own case this hour is used as a teacher-led weekly 'journal-shop'. Each week one journal article is selected to demonstrate the methodology it uses to address a particular issue in labour economics. Secondly, there are 7–9 unused hours (at the start and end of the teaching period) which can be used for mini-lectures, workshop activity, revision or further PBL time. Finally, the teacher can decide to set only five or six tasks, giving more time to complete each task.
Figure 9 12-week final honours module using full PBL format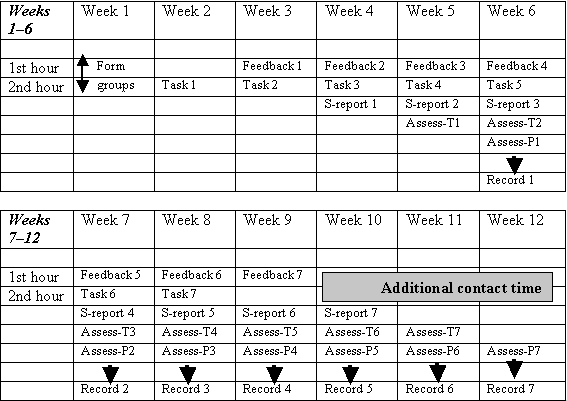 Notes:
1. The first hour is used for feedback meetings and the second hour is used for the group's first meeting to discuss a new task.
2. Task = new task (first PBL meeting); Feedback = second PBL meeting; S-report = submission of written report; Assess-T = teacher feedback and total assessment marks awarded for group report; Assess-P = peer-agreed distribution of teacher marks within group; Record = recording of individual summative marks following Assess.
3. Assess-T, Assess-P and S-report can be provided during the first or second hourly meeting of PBL groups.
4. If the timetable has provided one 2-hour lecture period, the first and feedback meetings may be back-to-back over the 2 hours, or the third 'seminar' hour may be used along with one of the original lecture hours to separate the two meetings.
Student perceptions of a full-format PBL environment
The comments in Figure 10 were provided by final honours students taking an optional module in labour economics. The comments have been grouped according to key aspects associated with small-group activity. It is important to note that students were not prompted to provide comments corresponding to these headings. The comments were only grouped after the views had been received.
A number of perceptions are dominant. The full-format PBL experience is no easy option and requires hard work throughout the teaching period (this is the main thrust of the negative comments, 39–41 and 45). The synergy generated within final-year PBL groups is a particularly rewarding experience for the teacher as well as for students. The comments under 'group dynamics' (1–9) and elsewhere convey an extremely healthy, relaxed and enjoyable atmosphere, yet the work rate progresses, as evidenced by the comments under 'benefits of PBL' (14–30) and 'skills developed' (31–38). Although the 'free-rider' problem tends not to be an issue with final honours students (13), I was impressed that when it did surface (10–12), team members resolved the issue without involving the facilitator. The externality effect of PBL, whereby non-PBL modules benefit from the skills acquired by students on PBL modules, is also noted (21). It is, of course, important to be aware that some students cannot adjust to a PBL environment, and prefer a conventional lecture-based approach (43).
Overall, the views of final honours students tend to be strongly supportive of the PBL approach to teaching. It is particularly pleasing to have students themselves admit that they have developed key subject-specific and general skills on the module (31–38, 17, 20 and 21, for example). While a teacher may presume that appropriate skill development has occurred, one can never be sure this has been the student experience. Although designing and maintaining a full-format PBL environment is hard work for the teacher, one senses that one is going in the right direction and doing the right thing.
Figure 10: Students' evaluations of full-format problem-based learning
Team dynamics
(1) 'Everybody was willing to put in a lot of effort and wanted to do well in the set tasks. At the beginning we established a routine of how to do the tasks and it worked very smoothly every week.'
(2) 'Everyone pulled their weight. If people were going to be absent, they let the other team members know and prepared their work in advance.'
(3) 'Everyone was motivated to get as much information as they could for the group. Nobody wanted to let the team down. '
(4) 'Everyone in the group participated and each did their part. We all learnt from each other as everyone submitted different ideas and information, and so we were able to cover a lot of ground in each topic.'
(5) 'There was a relaxed attitude, so people felt they could speak out and give an opinion. Everyone was willing to research as none of us knew anything about the topic.'
(6) 'Everyone worked very well together, it proved an enjoyable experience for everyone involved.'
(7) 'Group members could rely on each other and were prepared to meet outside class times to get things done well.'
(8) 'Everyone shared information. There was a high degree of trust.'
(9) 'Everyone exchanged contact numbers and so we had support if needed.'
Coping with free-riders
(10) 'I don't feel that we had any free-riders. We did have teething problems initially, but we discussed them as a group and were able to improve the way we worked as a team.'
(11) 'We confronted the person involved to try and understand and discover what problems he was facing.'
(12) 'They were confronted and asked to explain themselves. The situation was resolved by listening to their problems and then helping them to overcome these problems.'
(13) 'We didn't have any free-riders.' [This was the response of 92 per cent of PBL students.]
The benefits of PBL
(14) 'It gave me a chance to meet new people. Also to see how different people take different approaches to the one question.'
(15) 'Confidence, shared information, different opinions.'
(16) 'I learnt where to find various sources of information. I also learnt how to participate in a group and work within a team.'
(17) 'The information gathered was up-to-date. It was easier to digest and remember information obtained this way as opposed to reading lecture notes. The group was able to cover a wider scope when looking for information than one person working alone.'
(18) 'Better than sitting in a lecture. We learnt more because we had to find the information ourselves. We also became much more aware of information sources.'
(19) 'Each team member had different skills to bring to task discussions and I picked up very valuable information from each of them.'
(20) 'Merging individual views into a joint document was an excellent learning process.'
(21) 'The problem-solving skills I developed on this module will help me study my other modules next semester.'
(22) 'I learnt more about the subject researching it myself rather than being lectured.'
(23) 'Apart from the social aspect of meeting new people and having a bit of "craic", it was a very valuable experience working in the group. I am a quiet person and group work made me provide an input to team effect.'
(24) 'I was shown by another group member how to access journals etc. and I experienced a wide range of skills.'
(25) 'It gave me experience in researching data sources. This was an area in which I had little experience. It also helped me develop a professional approach to tasks.'
(26) 'Given a lot of responsibility – introduced me to independent learning.'
(27) 'Group morale was high. Knowledge gained was more extensive and better than lectures.'
(28) 'The fact that the majority of people did the work meant it was easier to learn the material.'
(29) 'It benefited my organisational and interpersonal skills. Also my diplomacy was tested with certain members of the group.'
(30) 'It forced us to do the research ourselves.'
What skills do you believe you developed?
(31) 'Research methods, communication skills, leadership, selection of quality data from a vast range of data.'
(32) 'The ability to select relevant data and dispose of rest.'
(33) 'Communication, reporting, negotiation, data selection, leadership.'
(34) 'Team working, research methods. I also gained self-confidence with this method.'
(35) 'Time management, meeting deadlines, interpersonal skills.'
(36) 'Delegating, researching, organising and summarising issues (through the written response part of the set task).'
(37) 'More in-depth research skills and applying data and economic models to real-world situations.'
(38) 'I feel that this method of teaching developed my problem-solving skills.'
Negative aspects – not all students like active learning! Also, some students who enjoyed the PBL experience overall had reservations with certain aspects.
(39) 'It put us under a lot of pressure to complete the work on time. I did not enjoy it at all.'
(40) 'Meeting outside of scheduled classes.'
(41) 'Too much hard work every week – the pressure did not subside.'
(42) 'You had to depend on others for vital information, and you have to trust their input to the process.'
(43) 'I would have preferred more lecture-based teaching.'
(44) 'On occasions we all wanted to be leader which led to confusion.'
(45) 'It was quite time consuming. I spent a lot of extra time researching and meeting up with other members of the group outside of class hours.'