Volume 9, Issue 3, 1995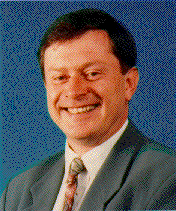 Guy Judge - Editor
First of all I must apologise for the rather late arrival of this issue of CHEER. This is due to a combination of factors - mainly ill-health and overwork and not, as some of you might think when you read the next paragraph, over-indulgent celebration.
Regular CHEER readers will already know quite a lot about WinEcon, the computer software which has been produced by members of the Economics Consortium for teaching and learning introductory economics. We have published a number of articles and news items keeping you in touch with its progress. Now the first generally released version is available - it was officially launched at the CALECO Conference in September and may now be ordered from Blackwell Publishers.
I am also delighted to report that WinEcon was selected as a medallist in the annual British Computer Society Awards. The awards scheme, which is in its 23rd year, is designed to recognise excellence and innovation in the IT industry. Other medallists in the 1995 Awards include IBM, BT, British Airways, Andersen Consulting and Taylor Woodrow. Three university based projects are among the twelve medallists, with WinEcon being the only computer based learning package to have been selected.
The judging process involved the submission of a substantial application, taking references from users and a day-long site visit by a BSC investigating team made up of IT professionals. WinEcon was highly rated for its extensive coverage, professional design and innovative courseware management system. The presentation to medallists is to be made by Lord Weinstock at an awards ceremony and exhibition at the Waldorf Hotel on 29th November.
This is excellent news for all members of the Economics Consortium and particularly for its Director, Phil Hobbs, who has had the difficult task of managing a project involving over forty people at eight universities. It is to be hoped that the publicity given to the success of WinEcon can play a role in attracting students to study economics at degree level. After this mutual back-slapping now comes a bit of a gripe. You may remember that in the last issue of CHEER my report of the computing sessions at the RES conference in Kent included mention of a new prototype World-Wide Web access system for the CSO Time Series data held at MIDAS (Manchester). Eager to know when the service would become generally available I contacted Keith Cole at MIDAS for the latest news. His reply was rather disappointing. "Unfortunately we are not in a position to release the prototype interface to search_cso. We discussed it with the Data Archive who then contacted CSO for approval.
The CSO were unhappy about a WWW interface as they thought it would provide unrestricted access to their data and thus jeopardise future sales. Even though our WWW interface is as secure as telnet access this was not sufficient for them. I have spoken to Denise Lievesley [Director of the ESRC Data Archive] recently and she assures me that she is still pursuing this with CSO. As you might imagine I am frustrated at not being able to release the protype and develop it further."
This really is disgraceful. The current access system is archaic and extremely unfriendly. The bureaucracy and form filling associated with gaining access is unbelievable - if you don't believe me, try it. The data series are only updated periodically so the latest figures are not usually available on-line anyway. Yet now all is clear - it is not MIDAS or the Archive to blame but the CSO, and for commercial reasons.
If access must be restricted to registered users lets do it via a password system - this is good enough for many other services provided on the Web. Ideally these numbers should be freely available as they are via the Penn World Tables in the USA. We now have a Central Office of Information Internet Services site on the Web (http://www.coi.gov.uk/coi/). Let's have some really useful economic information accessible this way too.
Guy Judge
Department of Economics, University of Portsmouth