Learning and Teaching Awards: Results 2006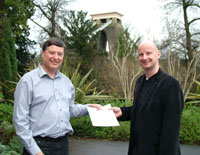 Dean Garratt receives his award from John Sloman of the Economics Network
The winners of the sixth Learning and Teaching in Economics Awards can now be announced. The scheme, run by the Economics Network, seeks to recognise and reward exemplary practice from within the academic economics community.
The centre received a record number of nominations across the three categories of Outstanding Teaching, eLearning and Student Nominated. The judging panel expressed their delight at both the number and high quality of nominations.
Dr. Dean Garratt from Nottingham Trent University has been awarded the Outstanding Teaching prize. His commitment, innovation and quality of teaching across a range of economics courses were highly praised.
The eLearning award was given to Dr. David McCausland at Aberdeen University for his innovative use of eLearning including his role in the development of the LiveEcon interactive courseware.
The Student Nominated award was shared between Dr. Maksymillian Kwiek from the University of Southampton; Prof. Robin Naylor from Warwick University; and Mrs. Alison Wride from Exeter University.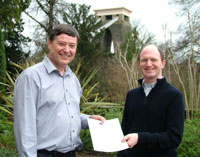 David McCausland receives his award from John Sloman
The panel also awarded two special commendations to Dr. Ben McQuillin from the University of East Anglia and Ms. Juliette Stephenson from Exeter University.
We received over 20 nominations for the Student Nominated Award. Some candidates were nominated by more than one group of students. The decision to award commendations reflects just how narrow the contest was. However the judging panel felt that felt that these nominations displayed all the qualities of commitment, enthusiasm, innovation and evident success that represent excellent teaching practice.
The centre and judging panel would like to congratulate all of those nominated for an award; the nominating statements were uniformly persuasive and it was tremendously difficult to make comparative judgements between them. They would also like to thank those that took the time to bring their lecturers or a colleague to the attention of the wider community.
The awards and commendations are worth £250 and £50 in gift vouchers respectively.
Other Coverage
Nottingham Trent University press release about Dean Garratt's award.