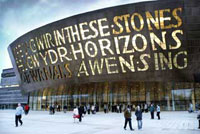 Picture credit: Kiran Ridley
The fifth DEE conference showcased activities and resources specifically developed to support economics teaching as well as present latest research into pedagogy in economics.
It also provided practical advice for lecturers and teaching assistants, guidance on balancing competing work interests and ideas for engaging students in the subject.
The conference venue was the Wales Millennium Centre, Cardiff, with dinner at the National Museum.
97% of DEE 2007 delegates who filled an evaluation form said they would encourage a colleague to come to a future DEE conference.