2.3. A 'plagiarism epidemic'
If evidence is required of the alarming rise in the incidence of plagiarism, we just have to turn some recent reports in the media. A recent article in The Times (January 2, 2016) reported, in an investigation based on more than 100 freedom of information requests, that almost 50,000 students at British Universities were caught cheating over the previous three years. The article also reported a number of other important findings:
Non-EU overseas students made a disproportionate number of the students caught cheating (Of the 70 universities that provided data from overseas students, those students were involved in 35% of all cheating cases but made up just 12% of the student body)
The problem is not limited to undergraduate studies. Almost 20 PhD students (or equivalent) were disciplined for academic misconduct over the previous three-year period.
5 cases of impersonation were recorded at one university alone.
Only about 1% of those found guilty of misconduct were dismissed because of cheating.
"Freelance academics" charge anything from £10 to £20,000 for coursework answers, dissertations and even an '80,000-word PhD'
This media article led to a very quick response by the Quality Assurance Agency for Higher Education (QAA), the independent body that checks on standards and quality in UK higher education with several policy documents produced in quick succession. First, in February 2016 the QAA Viewpoint alerted universities to the issues of 'paper mills' (QAA (2016a)), a few months later, in August a full report on custom essay writing services was published on the issue (QAA (2016b)) and in October 2017 produce a comprehensive guidance document for HE providers (QAA (2017)).
A recent article by Rigby at al. (2015) developed the first empirical investigation of the decision to cheat by university students and found that risk preferring students, those working in a non-native language, and those believing they will attain a lower grade are willing to pay more for an essay and hence are more likely to plagiarize. Furthermore, and perhaps not surprisingly, they also found that the likelihood of a student purchasing an essay and the amount a student is willing to pay for those essays decline as the probability of detection and associated penalty increase. This result partly explains the high incidence of plagiarism found in The Times (2016) article. The fact that only 1% of the students caught cheating were expelled from their universities might lead students to believe that, in what concerns plagiarism, crime pays in the end.
The high number of reported cases of plagiarism detected by universities are only made possible by the widespread use of plagiarism detecting software tools, the most widely used of which is Turnitin.
Turnitin is a Web-based platform for management of assignments and feedback, with a built-in check for plagiarism and collusion. It compares each assignment with its database of "+45 billion web pages, 337+ million student papers and 130+ million articles from academic books and publications"[i]. For that reason, it is a very effective and powerful tool to prevent collusion among students within the same university, the 'recycling' of parts or the totality of papers by students in different modules, students 'sharing' the same paper at different universities and the outright copy and paste plagiarism from materials available online.
Figure 1 below shows an example of an originality report.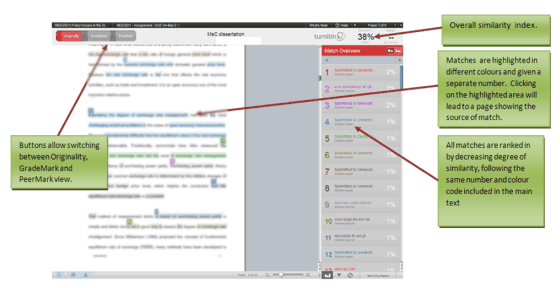 Figure 1: Example of originality report in Turnitin (click to expand)
Detecting plagiarism using Turnitin can be very time consuming and complex[ii]. A high similarity score does not immediately imply that plagiarism or collusion was committed as it can be the result of the sum of many similarity matches of small, commonly used expressions. Another complication is that the software can be manipulated by students if they are allowed to see their similarity reports and resubmit their work by, for example, changing the occasional word in a sentence to make the software filters ignore the similarity. Allowing students to see the originality report in their work prior to submission can be a very useful tool to teach students about plagiarism as well as safeguard academic integrity but this is not without its dangers.
Figure 2 shows an example of plagiarism in Turnitin. Although many small similarities with other work are found, which is to be expected, there is one match that accounts for a very large amount of similarity (38%) and most of this comes from entire paragraphs being copied and pasted directly into the assignment. Further investigation (as well as proof of the plagiarism) can easily be made by clicking on each match on the match overview panel, which will take you to the original source of the text. Sometimes that source is not publicly available (e.g. paper submitted by a student at another university) and in these cases the academic will need to ask for permission request to the author's instructor to see the original paper.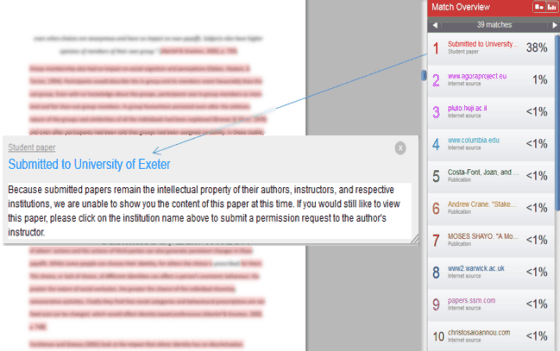 Figure 2: Example of plagiarism in Turnitin (click to expand)
---
[ii] Turnitin has recently introduced a new system, which they called 'Feedback Studio'. Although the layout changed slightly with the introduction of 'layers', the functionalities available remain the same.