2.9 Web-based, textbook-linked electronic resources
The use of web-based, textbook-linked electronic resources allows lecturers to save time when preparing resources for a module and when giving feedback to students. This will be particularly useful for first year modules that typically have large numbers of students and are composed of introductory modules whose content does not need to be updated from year to year in an major way. Adopting these resources also allows the possible use of resources that are cleverly linked among the lectures, the course work and the textbook.
Most of the same resources can be created by the lecturer and incorporated in the institution's VLE. This would, however, require a big commitment in terms of time and well developed IT skills. Furthermore, the publishers' resources tend to be more advanced than the resources available to us in the VLEs. This is particularly true in terms of the type and quality of feedback provided to students and the dynamic aspects of the electronic resources (being the possibility to create algorithm-generated questions with unique answers for each student or problems that allow students to respond graphically and get automatic feedback if they get it wrong).
Nowadays, most publishers invest heavily in online assignment and assessment systems, customised to particular textbooks that are available on option and at an extra cost to students as this is seen as a strong selling point. Typically, these systems use the exercises from the textbook both in a static as well as dynamic fashion. In the first instance, we can find randomly ordered multiple choice quizzes where questions, answers and feedback are fixed and the same for all students. The second type allows for the creation of problems that are unique for each student where pre-set algorithms generate multiple data possibilities, answers and feedback. Lecturers can in general, have a large degree of control over the resources at their disposal. This includes, not only the possibility to edit and adapt existing questions but also to add original content to the system.
The most notable examples in the Economics area are Pearson's MyEconLab, Mc-Graw Hill's Connect, Cengage's Aplia and Wiley's Wiley Plus. The University of Exeter Business School has used the first of these in two large first-year modules, Economic Principles and Economics for Business, with a combined intake of around 1000 students, for a number of years. Therefore, this section will focus on this system (but as stated above most publishers have equivalent products).
In the first lecture of the year, students are encouraged to purchase the textbook which contains the access code for MyEconLab. Although the use of this system is not compulsory, around 90% of the students enrolled on the course used MyEconLab. The module coordinator sets homework and a test every week, which are automatically marked. Students are encouraged to complete their homework tasks (which are formative assessment) as these serve as preparation for the weekly tests and the final exam. While in completing the homework students can go back over the questions and get feedback and a step-by-step breakdown of the problems when they get questions wrong; when completing the weekly tests (which are part of the summative assessment) students only have one chance. An example of a MyEconLab course home page is presented in Figure 21.
Figure 21: MyEconLab course homepage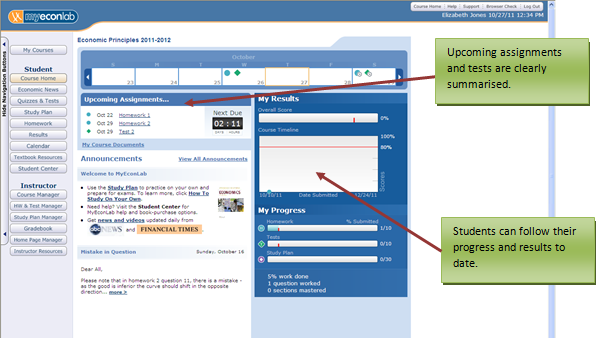 The homework and tests appear in the students' study plans, which allow students to follow their progress during the course and the lecturers to monitor student progress online and so gauge the level of understanding of the majority of students on each topic, and thus signal areas that require further explanation and practice. Although no formal empirical analysis has been completed on the results of using MyEconLab (and therefore no causality can be established), the evidence to date shows that students that made the best use of MyEconLab, who completed the homework and tests, and used the 'ask my instructor' link, were those who achieved better results in the final exam. An example of a student's individual study plan is shown in Figure 22.
Figure 22: MyEconlab individual study plan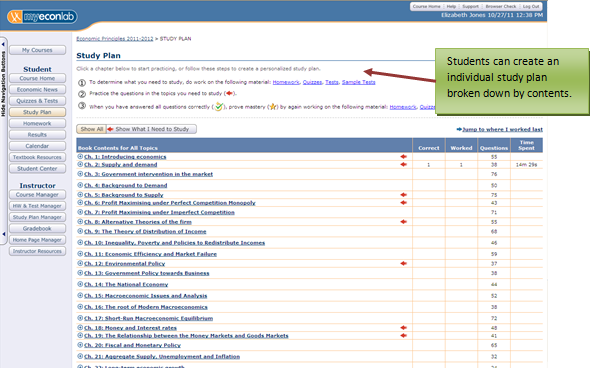 The use of textbook-based resources has caveats. As access to these systems requires the purchase of an individual access code per student per term, the access to it has to be either voluntary (and therefore cannot easily be used for summative assessment) or the university has to purchase the access codes for all students. In a context of rising fees for UK students, we must all ask ourselves whether post-2012 students will be as willing as those before them to part with additional funds to pay for these systems for their assessment and feedback. Furthermore, as these platforms tend to be 'stand-alone' technologies, functioning outside the existing VLEs, lecturers do not have full control of contents (even if publishers allow some degree of flexibility by allowing lecturers to customise the resources) and are dependent on the publishers to update contents and to provide timely access to all students. For those reasons, we believe these systems are more relevant for first-year modules whose content does not change frequently, as typical introductory first-year modules tend to be.