3. Options for your own blog
Once you have decided to start your own blog, you need to ask yourself:
Do you have technical support available, or do you want maximum ease?
Do you want a customised design, or are you happy to choose from some templates?
Is an ordinary blog enough, or do you have specific needs such as a multi-author or password-protected blog?
Your answers affect whether it will be better to use a commercial service, your own server, or an institutional platform.
1. Hosted solutions
Hosted software is where a company has set up blogging software for you on the Internet, enabling you to sign up for an account, log in to the system, and start blogging straight away. There is a large range of hosted solutions out there, which vary greatly in terms of quality, features and whether you wish to pay for them.
The key advantage of a hosted solution is that you do not need any technical skills or intervention to start blogging. This means that you can get writing immediately and it is a good way to introduce yourself to how blogs work and the mechanics of posting articles and receiving comments.
You will be restricted in terms of the look and feel of the blog - usually in the form of templates provided by the company. You may also be restricted in terms of the functionality a particular blogging software package may provide - whether you can add multiple authors, assign categories to posts or set up more than one blog.
Three of the most popular hosted blogging solutions are: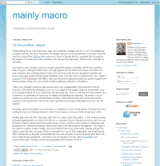 Simon Wren-Lewis' blog
, as of March 2016: created in Blogger with a standard template.
Blogger is free and owned by Google - all you need to get started is a valid email address and to register at their website. Perhaps confusingly, Blogger is the software but Blogspot is the hosting service, so Blogger sites usually have .blogspot.com in their web address.
Greg Mankiw's (Harvard University) student-focused blog, and Conversable Economist by Timothy Taylor, editor of the Journal of Economic Perspectives, use Blogger.
A hosted version of the open source WordPress blogging software (see below), that is free to use and surprisingly rich in features, but some extra features like using your own design template or getting a personalised web address can be paid for.
The Everyday Economist by Josh Hendrickson (of the University of Mississippi) and the Real World Economics Review use WordPress.com
Typepad has a range of pay-monthly options, with the cheapest offering one blog produced by a single author, ranging to a package offering an unlimited number of blogs and unlimited storage.
Economist's View by Mark Thoma of the University of Oregon and Bradford DeLong's (University of California, Berkeley) personal blog are hosted on Typepad.
2. Institutional options
Your institution may already provide a blogging platform. Virtual Learning Environments (VLEs) such as Blackboard or Moodle usually come with a blogging module already built in. This has the advantage of being integrated with a system you and your students may already be familiar with, but the functionality is usually less impressive than dedicated blogging software.
Another possibility is that your institution offers its own blogging platform. This is not widespread in the UK, but the University of Warwick and University of Nottingham are among those with their own platform. It may be worth asking your library, computing or information service whether they have a recommended blogging product they support.
3. Installed software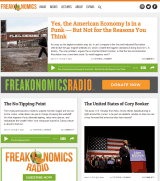 The
Freakonomics blog
, as of March 2016: a heavily-customised design using Wordpress software.
The above options will let you set up a blog in minutes, quite easily and for free, depending on the account you choose. If you're happy with that, skip the rest of this section. However, maybe you want not just a choice of designs but total control of the design. Perhaps you don't want adverts on your blog, which commercial services might show. Perhaps you do want adverts, but for your products or for the revenue to come to you. Maybe you want the blog to be integrated with other software. If so, you should consider installing blog software on a server you run, or rent through a commercial web-hosting service.
This will require blogging software (which you can get at no charge), access to a web server on which to host it, and access to the technical skills to configure and manage it all. Once the blog is designed and configured, there is very little ongoing work required, but it is not zero: there will be occasional updates and security fixes to apply.
The intricacies of web server maintenance and the various technical skills needed to run them are outside the scope of this guide, but you could consult within your institution as to what support is available, or look for web hosting companies that include blog software as part of their package.
The present market leader is:
WordPress is an open source blogging platform. It is freely available and has a dedicated community of developers working on new features that can be easily integrated into the software, via plugins or widgets that add extra functionality. The design of the blog can be changed at the click of the mouse, thanks to a library of downloadable themes.
Marginal Revolution by Tyler Cowen and Alex Tabbarok and The Enlightened Economist featuring book reviews by Diane Coyle of the University of Manchester use WordPress.
The site FirstSiteGuide has a more detailed overview of features of the Wordpress software and what's involved, along with other introductory guides to creating your own blog.
Top Tip
There are many plugins available for Wordpress. You don't strictly need any: just the Wordpress software is good enough to go. However, two plugins that we recommend are Akismet and Jetpack. They provide incredibly useful services, including spam detection and "social" links (to help readers share your posts), for free.