Shared documents for online events
It is possible to set up online documents that can be edited by anyone, with no login required. Contributors only need a web browser and no other software. This sets a low barrier for involvement, which is a double-edged sword in that you can't see contributors' identities. Still, this can be very useful to get audience engagement during a webinar or other event.
Tip: Before sharing the link to your document, set out headings and gaps corresponding to the structure of your event. The first question might be simple to encourage participation, such as inviting participants to introduce themselves.
Tip: If you do this for multiple events, consider making a template that outlines the structure of a typical event, and duplicating it each time.
Google Docs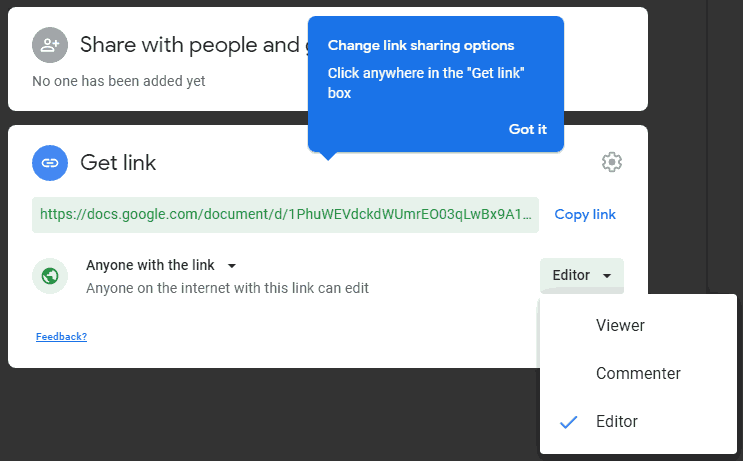 All you need for this is a Google account (e.g. Gmail). Log into drive.google.com, create a new document (New > Google Docs > Blank document) then share it to the public so anyone can edit (Share > Change > Change Viewer to Editor in the drop-down).
Now Copy link and share that link with your audience.
It's possible to let contributors add comments at the side of the article without changing the article's content: select Commenter rather than Editor.
At the top of the screen will be a link saying when the document was last saved. Click on this to view and even restore earlier versions of the document.
Jamboard is another Google product that works similarly to a shared slide deck, with the exception that commenters add their ideas as sticky notes on the shared whiteboard.
By starting with Google Sheets instead of Google Docs, you can create a publicly editable spreadsheet.
Microsoft Office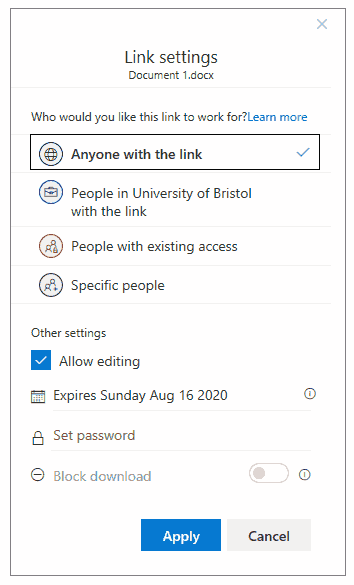 In Microsoft Office 365, click Word, then New blank document, then, in the top right of the new document, Share, then click the box that says People you specify can view. Now you have a list of options; select Anyone with the link. Also click the Allow editing checkbox. You have the option to set a password.
Now click Copy link and share it with your audience.
If you need to undo edits, click Last modified at the top of the screen, then Version history.
If you are using Excel instead of Word, the Share button gives you the same option to make the document publicly editable.
Notion
Notion is a collaborative note-taking app, currently free to educators and students, that allows various kinds of shared work-space. It includes drag-and-drop editing and an equation editor
Etherpad
Etherpads are collaboratively authored text documents (think Notepad, but on the web and with many contributors at the same time). They are plain-text documents, without the richness of a Word document or Google Doc. Thus Etherpads are ideal for meeting minutes but not as suitable for education and training as the other platforms. Systemli and Ouvation are two sites offering free Etherpads. These self-destruct after a period of time (e.g. a year) but you can export your document into Word or HTML.
Security considerations
To reduce the risk of vandalism, only share the link in a private channel, such as Zoom chat or email. Vandalism hasn't happened in my experience of using the tools mentioned here, but just in case it does, you can restore earlier versions of the document.
Accessibility considerations
Both Google Docs and Microsoft Office 365 are compatible with screen readers, audio typing and braille hardware: follow the links for more details. Etherpads are even more accessible due to their whole content being plain text.
Back to top