ExcelAssess is free software for Windows that allows you to administer self-marking exams in Excel. It comes with a large bank of questions in Excel skills, statistics, basic mathematics and economics.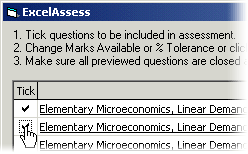 Why and how to use this software
Answers to all kinds of queries
A list of all questions currently available
Download
Note: we have been told of problems with running ExcelAssess on Windows 8. We cannot guarantee it will run on that version of Windows. We can make the complete source code available on request to developers who can help with the problem.
This software is free to all staff at educational institutions. Send us your institutional email address (not a Hotmail, Yahoo address or similar) and after a brief check (two working days at most) the download link will be sent to you in email. We will not use your email address for any other purpose.
Credits
ExcelAssess questions were developed by David Whigham and John Houston of Glasgow Caledonian University. The Windows front-end was programmed by Richard Taylor of LiveLearning. Developed with financial help from the JISC/Higher Education Academy's Distributed eLearning programme.
This is open-source software released under a Creative Commons-GNU General Public License.