DeSTRESS Film 10: The Chebyshev Theorem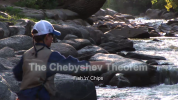 Film 10: The Chebyshev Theorem: Fish 'n' Chips (11'48")
This film uses an Icelandic fish processing plant and a market research firm as examples of how the mean and standard deviation, in conjunction with Chebyshev's Theorem, help people understand variation and control costs and quality.
Interviewed in this video:
Elisa Richards, Director, Maritz Research Ltd.
Presented by Ken Heather of the University of Portsmouth and produced by StreamLearn LLC.
Related questions