DeSTRESS Film 14: Voting and Sampling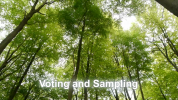 Film 14: Voting and Sampling (14'23")
This film examines methodologies used in sampling and polling. Most of the footage was taken at a County Council election in Basingstoke. The film also looks at the pollination of glacial lilies affected by climate change as an example of sampling.
The DeSTRESS films are presented by Ken Heather of the University of Portsmouth and produced by StreamLearn LLC.