DeSTRESS Film 15: Lorenz Curves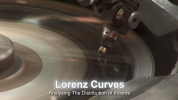 Film 15: Lorenz Curves: Analysing the Distribution of Income (15'19")
This film interviews a human rights activist and a young Danish mother to talk about inequality and redistribution. It also uses a desert-island example to introduce the measurement of inequality. The Gini coefficient is explained, with current examples.
Presented by Ken Heather of the University of Portsmouth and produced by StreamLearn LLC.
Interview subjects:
Eli Chidas, Human Rights Activist, Denver Day-Labour Street Market