DeSTRESS Film 16: Rank Correlation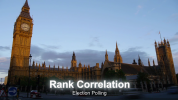 Film 16: Rank Correlation: Analysing Voter Concerns (13'37")
With interview subjects including Sir Robert Worcester, founder of MORI, Film 16 looks at how social scientists analyse voter concerns, using surveys and ranking. It talks about the differences between the concerns of under-40s and over-40 voters as an example of segmentation and of Spearman's rank correlation.
Presented by Ken Heather of the University of Portsmouth and produced by StreamLearn LLC.
Interview subjects:
Maria Miller: MP for Basingstoke, Under-Secretary of State for Work and Pensions
Sir Robert Worcester, KBE, DL: Founder of MORI Polling and Research
Related questions