DeSTRESS Film 18: Regression Analysis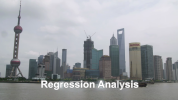 Film 18: Regression Analysis: Corruption and Investment (17'21")
As an example of a regression analysis, Film 18 explores the relationship between the level of corruption in an economy and the level of capital investment. It visits a Bulgarian chicken processing plant for an example of an investment, and interviews a journalist, a business owner, a politician and academics about the effect of corruption on the economy.
Presented by Ken Heather of the University of Portsmouth and produced by StreamLearn LLC.
Interview subjects:
Simka Stefanova, deputy editor, SEDEM, Bulgaria
Zacharias Peithis, coffee shop owner, Thessaloniki
Dr. Alexandros Psychogios, Senior Lecturer, City College, International Faculty of the University of Sheffield, Greece
Dr. Leslie Szamosi, Senior Lecturer, City College, International Faculty of the University of Sheffield, Greece
Margareta Cederfelt, member of the Swedish Parliament
Related questions