DeSTRESS Film 19: Hypothesis testing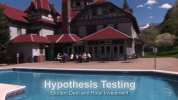 Film 19: Hypothesis Testing (17'43")
Film 19 centres around two examples of hypothesis testing: the preferences of customers for a hotel chain, and student loans. The hypotheses tested statistically concern how much hotel customers will pay for new comforts, and the average amount of student debt, based on a sample.
The DeSTRESS films are presented by Ken Heather of the University of Portsmouth and produced by StreamLearn LLC.
Interview subjects:
Jeremy Griffiths, Director, Marketing Sciences Europe, Maritz Research
Gary Becker, Professor of Economics, University of Chicago, Nobel laureate
Related questions