DeSTRESS Film 1: Interpreting and Using Data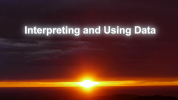 Film 1: Interpreting and Using Data (19'02")
This first film in our series looks at descriptive statistics. Pie charts, bar charts, graphs, and graphs can be used to illuminate ideas but they can also obscure and deceive.
Interviewees:
John Pullinger: Director General, Information Services, House of Commons Library; Fellow of the Royal Statistical Society
Gary Becker: Professor of Economics, University of Chicago; Nobel laureate
Sir Robert Worcester, KBE, DL: Founder of MORI Polling and Research; Chancellor, University of Kent
The DeSTRESS films are presented by Ken Heather of the University of Portsmouth and produced by StreamLearn LLC.