DeSTRESS Film 6: Introducing averages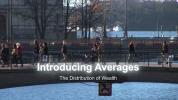 Film 6: Introducing averages: the Distribution of Wealth (15'55")
This film discusses the distribution of wealth, and the relation between wealth and happiness. It distinguishes three kinds of "average"; the mean, mode and median.
Interviewees:
Gary Becker: Professor of Economics, University of Chicago; Nobel laureate
Jesper Roine: Stockholm Institute of Transition Economics, Stockholm School of Economics
The DeSTRESS films are presented by Ken Heather of the University of Portsmouth and produced by StreamLearn LLC.
Related questions