DeSTRESS Film 7: Index Numbers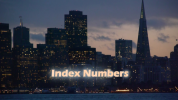 Film 7: Index Numbers (21'04")
This film focuses on changes in prices. It explains, with examples, the difference between Laspeyres and Paasche price indices. It discusses the measurement of inflation and gives as an example the German hyperinflation of 1923.
The DeSTRESS films are presented by Ken Heather of the University of Portsmouth and produced by StreamLearn LLC.
Related questions