Let's say you want to create a video with narration, which isn't just a narrated slide show. For example, you want to use some software, talk into your microphone while you do it, record the movements of your mouse pointer or your touch input device, and save the result as a video which can be incorporated into a slide show or shared on streaming platforms.
If you only want to add audio narration to a slide show, there is no need for screen capture software: PowerPoint can record your presentation along with narration. If you want to show your web browser or a software application (or switch between applications), you need screen capture software and there are several free or cheap options.
PowerPoint
If you have the current version of PowerPoint on Windows, you have the ability to capture video of your screen or a region of the screen, along with audio narration.
Click Insert on the top bar
Click Screen recording, the rightmost button the next bar down
A little menu pops up at the top of the screen. Here you can select whether or not to record audio, and whether or not to capture your mouse pointer. You need to select which region of the screen (or the whole screen) will be recorded.

Clicking Record gives a short countdown after which it starts recording.
Press Window key + Shift + Q to stop recording.
Post-recording, you might want to trim and crop. Trimming is cutting away dead space from the start or end of the video. Right-click on the video and select Trim. This brings up a preview of the video with start and end markers that you can move.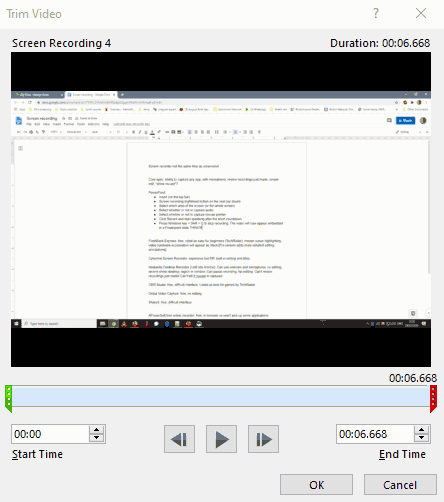 The crop tool changes the shape of the video by cutting off edges. For example, when I capture my whole screen, I don't want the taskbar at the bottom of the screen to appear in the final video. Select the video, click Crop towards the top-right of the PowerPoint window, and crop marks appear which can be dragged to choose how much of the video you will crop out. Click crop again when you are happy with the result.
PowerPoint does not allow more sophisticated editing than trimming, so to cut something out from the middle of the video you would need to save the video and open it in other software. Right-click on the video and select Save Media as to create a .mp4 file.
See this video case study for more about including video clips in PowerPoint.
Other software
Some universities already have site licences for Mediasite Desktop Recorder. This can capture a webcam as well as audio and allows you to pause the recording.
FlashBack Express is free and among the easiet to use screen capture tools. It captures webcam as well as audio but some applications may appear as black space. The paid Pro version adds editing features.
APowerSoft free online recorder does not need to be installed but works from your web browser. This has the downside that it cannot capture some applications.
OBS Studio is completely free but also very powerful in that it can handle multiple audio and video sources and is extremely configurable. It has a steeper learning curve.