Developments in Economics Education conference 2013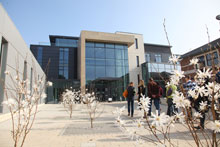 We are pleased to announce that our biennial international conference, Developments in Economics Education, will take place on Thursday 5th and Friday 6th September 2013 at the University of Exeter's Business School.
The keynote address will be given by John Kay, one of Britain's leading economists and a patron of the Economics Network.
Booking is now open for the 2013 DEE Conference. The link above will provide all the information you need for the conference, including on accommodation and travel.
The deadline has passed for submissions: thanks to all of you who have submitted papers, posters, or workshop sessions. Full papers will also be considered for a special edition of the International Review of Economics Education).
The Higher Education Academy UK Travel Fund may be able to offer assistance for those within the UK who wish to attend DEE. It provides funds for staff and students to engage in activities that support the development of teaching and learning practice by contributing to travel, accommodation, subsistence and event fees.
The Economics Network will also be presenting our Teaching Awards at the DEE conference. Please click the link above to find out more or to submit a nomination.
Watch this space
Further details about the conference will be added to this page in the coming months, so please check back for additional information.