DeSTRESS Film 20: Income Distribution revisited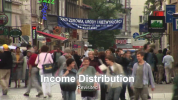 Film 20: Income Distribution revisited (17'00")
Film 20 is a follow-up to Film 15, which looked at wealth inequality, income inequality and the Gini coefficient. It uses income as an example of how to characterise a skewed distribution. It contrasts public and private-sector approaches to helping people at the bottom end of the income scale. It uses corporate taxation and the Laffer curve as an example of a non-linear regression. It shows how poorer people are affected more by periods of recession.
The DeSTRESS films are presented by Ken Heather of the University of Portsmouth and produced by StreamLearn LLC.
Interview subjects:
John Pullinger, Director General, Information Services, House of Commons LIbrary
Margareta Cederfelt, Member of the Swedish Parliament
Greg Harms, Executive Director, Boulder Shelter for the Homeless
Rene Brodeur, Director of Programs, Boulder Shelter for the Homeless
Maria Miller, Member of Parliament for Basingstoke, Under-Secretary of State for Work and Pensions
Gary Becker, Professor of Economics at Chicago University, Nobel laureate
Related questions