The Handbook
for Economics Lecturers
5.2 Setting up a partial PBL environment
This section discusses the introduction of PBL to replace the standard seminars in the situation presented in Figure 6. Note that the schedule below can be modified to suit the specific learning environment. The number of tasks can be reduced to any number, 1-4, as required.
Figure 6: Example organisation of a lecture and seminar format
2 hours of lectures per week (either one 2-hour session or two 1-hour sessions)
a 1-hour seminar per week
one tutor per seminar group
seminar class size = 15–20 students
12-week teaching period
assessment comprises coursework and final written examination
Each of the original seminar groups of 15–20 students is split into smaller PBL groups of 6–8 members and each of these groups operates independently from other PBL groups sharing the same seminar room. The size of some PBL groups may be reduced to 4–5 students where the original seminar size is relatively small. Each seminar group (2–3 PBL groups) is allocated one tutor who assumes the role of facilitator. The structure illustrated in Figure 6 assumes that two PBL groups have been formed and that there is one week to research the task between group meetings. Sufficient time for research between first and feedback meetings is imperative.
The partial PBL format depicted in Figure 7 is allocated 1 hour per week (less 5 minutes' wastage due to class changeover, etc). Groups typically have 35 minutes for first-meeting sessions (55 minutes in the case of the first task), during which there is an initial 'brainstorming' discussion, identification of learning objectives and delegation of study tasks to be undertaken by group members during non-contact hours. One week later, each group has a 50–55-minute feedback discussion to formulate a response to the task. At the third meeting, 20 minutes are provided during which one group will formally present their response to both the tutor and the other discussion group using OHP facilities. The latter feature provides an opportunity for general class discussion and tutor feedback (formative and possibly summative). When a group does not have to make a verbal presentation, it must provide a written summary of its response to the facilitator for feedback. Providing opportunities for group presentations works well with first-year students. I tend to rely on written responses at other levels (though see Section 2.3 above, "Extending the limits of student self-governance").
Figure 7 'Partial' PBL environment: 12-week module using PBL structured seminars supporting lectures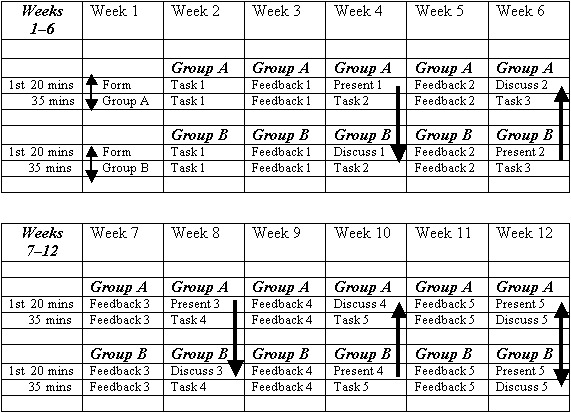 Notes:
1. Task = first meeting to discuss new task; Feedback = feedback meeting; Present = formal presentation by group to tutor and other group/s; Discuss = discussion of presentation by whole class.
2. In the last week, both groups formally present their response to the last task.
3. The above structure allows for five tasks to be completed, involving three formal presentations and two written responses, within the 12-week teaching period.
4. A third PBL group would mean that each group made two presentations and three written responses.
The structure illustrated in Figure 7 has been used successfully to teach introductory economics to single and joint honours economics students and non-specialists at the University of Ulster. All students undertaking PBL are asked to complete a questionnaire giving their views on their PBL experiences. A sample of both the positive and negative views and perceptions of Ulster students experiencing the partial system outlined above is provided in Figure 8.
Student perceptions of a partial PBL environment
All the students were in their first year, taking the same introductory economics module. The part-time students were employed in the public sector and were registered on a public sector studies programme. All students completed the UK housing task illustrated in section 3 above. The dominant feature of the positive comments (1 and 3–8, for example) is the synergy that can be generated when students work within small teams in a problem-solving context. The benefits that arise from regular student–student interaction cannot be overestimated, not only in terms of the sharing of ideas, but also in terms of helping to raise confidence (12 and 13) and helping students establish a rapport with their peers – valuable attributes in the case of first-year students. That the experience tends to be enjoyable, relevant and interesting (on the whole), despite the hard work, is suggested by comments 2, 11–13 and 15.
The role of facilitators is crucial in identifying potential problems before they impact upon the process. Team members who do not participate need to be identified earlier rather than later (negative comments at 7 and 14). Despite the negative perception at (10), facilitators are asked to invite questions/queries from students on a regular basis. In addition, students are encouraged to contact tutors via e-mail whenever necessary. Facilitators must also ensure that task leaders keep the discussion going and that all team members contribute (see the negative comment at 8). Poor facilitating can exert a negative influence on the PBL process.
Overall, however, these comments show that the students did actively participate in the learning environment, sharing ideas and helping peers (or receiving help). All this is in sharp contrast to the TLS environment it replaced. The rationale for introducing partial PBL to teach introductory economics at the University of Ulster is discussed in more detail in Forsythe (2002).
Figure 8 Views of first-year students taking Introductory Economics module at the University of Ulster within a partial PBL environment: positive (+) and negative (–) comments
Key: E = BA (Economics); LE = BA (Law and Economics); EG = BA (Economics and Government); PT = part-time non-specialist (mature) student
(1)
+
'Each individual contributed different information. Each student learnt from each other. Only at the beginning was it negative. Students found it difficult to converse because we were new – overall no real negative features.' [EG]
(2)
+
'I had never encountered economics as a subject before. I was dreading the subject and did not want to do it. However, I'm glad I did and found it interesting. I now see the advantages of having done the module.' [PT]
(3)
+
'It gave you the opportunity to hear ideas and interpretations on a particular topic from fellow students rather than just from the lecture.'
–
'It was hard at the start to interact with other pupils considering you had just met them.' [EG]
(4)
+
'Everyone worked well together and everyone got a chance to play a part with the rotation of leader and recorder.' [LE]
(5)
+
'Everyone participated. Lots of ideas were gained.' [LE]
(6)
+
'Got to hear other opinions.'
–
'It was embarrassing if you did not fully understand the topic and were therefore unable to contribute.' [EG]
(7)
+
'It made you research different topics, thereby getting a better insight into the topics.'
–
'If somebody didn't research their allocated task the whole group lost out.' [EG]
(8)
+
'A small group meant everyone had a chance to contribute.'
–
'Group leader needs to keep the group focused.' [PT]
(9)
+
'Group input allowed students to reduce their own personal weakness on a particular topic.' [PT]
(10)
+
'I was able to relate the theory to real-life situations through the topics discussed and researched.'
–
'There was less opportunity for individuals to ask questions and this could be a problem (not for me as I had done A-level economics.' [E]
(11)
+
'It made the subject more interesting. You were actually getting involved and discussing it rather than listening to someone else discussing it.' [E]
(12)
+
'You had to concentrate all the time (no hiding in the crowd). You had influence working in a small group; it was easier to ask questions outside of large lecture if you wanted to and got more out of tutorials as a result.' [EG]
(13)
+
'It helped you think about topics without losing interest as much as in a normal tutorial.' [E]
(14)
+
'Raised confidence by working in small group and got to know people I would not talk to otherwise.'
–
'People not turning up and this created problems for others.' [EG]
(15)
+
[Most common positive comments]
'Helped understand topics better by use of real world examples and made to use the internet etc.'
'Work sharing; got to know other people.'
'Hear other people's views.'
'This was interesting team work.'
'Enhanced skills involved with the group.'