Assessment materials for Statistics in Economics
DeSTRESS project interactive questions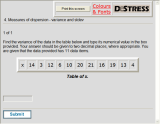 Created by Martin Greenhow and Abdulrahman Kamavi, Brunel University and released under a Creative Commons Attribution licence.
This is a set of 11 interactive tests, drawing randomly on over 400 question types, each of which produces thousands of different questions.
You can access these questions in two ways.
They are part of the MathsEG online service, which you can configure via the teacher interface.
The Downloadable version can run on a PC with Java (a free download). For detailed instructions, consult the METAL project.
Topics:
Notation and basics
Measures of location
Measures of dispersion - percentiles
Measures of dispersion - variance and st.dev.
Correlation and regression
Probability
Discrete random distributions
Normal distribution
Binomial distribution
Poisson distribution
Forecasting
University of Sussex
The below assessment questions and exercises are presented without answers.
Class exercises
Class exercises in Excel
Assessed coursework projects
Exams
Jonathan Parker, Keele University
Worksheets from PIR20069 - Approaches to Political Analysis
External links
Stephen Ansolabehere, MIT
Quantitative Research in Political Science and Public Policy
MIT OpenCourseWare from 2004, lecture notes, exams and solutions. Creative Commons Attribution-NonCommercial-ShareAlike 3.0 United States (CC BY-NC-SA 3.0) Licence