Finding Audio and Visual Materials
Here are some pointers for finding video clips, audio or still images to use in teaching economics.
NB By default, copyright applies to materials found on the Web. Permission to use them yourself might be requested directly, or granted in advance using a licence such as Creative Commons.
Video
We link to many tutorial videos in economics, including the Nobel Prize winner lectures.
The METAL project has a range of (3- or 4-minute) videos explaining economic applications of mathematical concepts, freely available for use in your teaching. The more recent DeSTRESS project has twenty videos, of 15-20 minutes each, applying statistical concepts in social science.
If you are based at a subscribing institution, you can benefit from the British Universities Film & Video Council's off-air television recording backup service. You can use the site to order CDs, DVDs or video of a programme from BBC1, BBC2, BBC3, BBC4, ITV1, Channel 4 and Five, going back to 1998.
Another service for UK academics is MediaPlus (access to subscribing institutions), which brings together several collections that are free for educational use, organised by academic subject.
TED talks are well-produced video lectures of 15-20 minutes' length on themes including poverty and development; changing business culture and environmental issues.
If you want to illustrate topics from past generations, the Internet Archive hold public domain film archives including British Government public information films and the Prelinger archive of US information films from the 1940s to 1970s.
Two large archives of historical newsreels are available on YouTube: British Pathé and British Movietone. See for example the Sterling devaluations of 1949 and 1967 and Keynes on the gold standard.
We have a presence on YouTube, where you can recommend films to us and find short films related to Economics or to our work. WhyStudyEconomics hosts all the films from our student film project.
360 Daily allows you to search dozens of video news sources, and is a good way to find topical clips.
Search the BBC news archive for video and audio segments related to a particular term, e.g. interest rates
Audio
Many universities are making available audio of their lectures or public events. For examples, see LSE Public Lectures, Oxford Economics Podcasts, or Economics at University of California, Berkeley
Our Economics in Action blog has audio interviews with economists giving non-technical explanations of their latest research.
There are commercial services offering audiobooks for download, sometimes with free sample chapters. Audible and LearnOutLoud are examples.
If you have the free iTunes software, you can find audio from lectures and discussions put online for free by various US universities in iTunes U.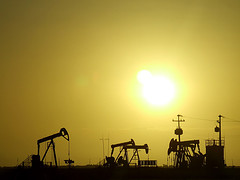 "Sunset at Petroleum Field" by
Fábio Pinheiro
, found through
Flickr
. Creative Commons licensed.
Still Images
Jisc Digital Media has advice on finding images online, including from photo-sharing sites such as Flickr. One advice sheet deals with Finding Current Events Images.
Wikimedia Commons has thousands of freely-reusable images related to Economics, although the categorisation is frequently chaotic. Some of these are diagrams of economic models, which others are charts or visualisations of data. This is also a place to look to find pictures of historic and present-day economists.