Enhancing international student experience with innovative assessment and feedback on Economics Studies at Glamorgan
Contact: Esyin Chew and Helena Snee
University of Glamorgan
Email: echew@glam.ac.uk and hrsnee@glam.ac.uk
Published November 2011
The agenda of internationalisation and technology enhanced learning, assessment and feedback is one of the key efforts in UK higher education. UK higher educational institutions (HEIs) have committed to enhance the assessment and feedback experience in response to the past NSS results which indicate less satisfactory experience on the relevant agenda (NSS, 2009). Internationalisation is another growing strand for UK HEIs (HEA, 2011; JISC infoNet, 2009). This case study presents a HEA Economics Network funded project (2011) that responded to the key efforts, by exploring the academic and international students' experience for innovative online peer assessment and feedback at the University of Glamorgan. Researching international student cohorts, the research investigated their positive and negative experience of using online collaborative and peer-marking tool, PeerMark, underpinned by Vygotsky's Zone of Proximal Development (ZPD) theory. ZPD is Vygotsky's term to describe a simple but powerful principle: the quality of the learner's thinking and performance is much better if he or she is aided with a more knowledgeable peer rather than working independently (Alexander, 2006). Turnitin is the University of Glamorgan's norm for online coursework submission and the formative feedback tool is integrated within Blackboard. GradeMark and PeerMark are the extended Turnitin's collaborative tools for tutor and peer assessment and feedback. The project embedded Turnitin2 (see Figure 1) in the Economics curriculum and assessment design, as the innovative assessment and feedback pedagogical approach with the objectives below:
1. to embed Turnitin2 (see Figure 1) as the innovative, easily accessible and richer assessment and feedback approach in the academic year of 2010/2011 for MBA and MSc (International Logistics, Transportation and Supply Chain Management) Economics modules.
2. to explore international students' confirming and disconfirming experiences with Turnitin and GradeMark – the online submission, plagiarism detection, time-sensitive feedback and grading tool.
3. to discover international students' perceptions and experiences of the impact brought by PeerMark – the new collaborative and peer-marking tool of GradeMark (underpinned by Vygotsky's ZPD theory).
4. to produce a case study with good practices and guides on how to enhance international student experience in Economics studies and an online video sharing student feedback (interview with international students) based on the findings from (2) and (3).
The project started with brief training and self-exploration for the tool, PeerMark. The lecturer designed assessment criteria and a series of 7 questions (each relates to one of the assessment criteria used for the module), created Turnitin assignments on Blackboard, and then went through the 3-stage setting up for PeerMark. The purpose of the peer assessment was to enable international students to explore the assessment criteria and also to encourage them to be critical of their own work. This was clearly explained to the students. The lecturer also demonstrated the expectation of critical and constructive feedback, and explained how to provide professional comments to others. Before the due dates, students turned in multiple drafts for originality checking against 14 billion web pages, 150 million student papers and leading library databases and publications (Turnitin, 2011). Students received multiple rounds of formative feedback from the Turnitin system, and submitted the final revised version for peer assessment. After the due date of submissions, students provided feedback for two of their peers' reports then reviewed their own work, with the aid of the seven guided questions using PeerMark.
Fig 1. Turnitin2 (Turnitin, 2011)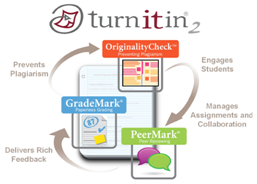 Figure 2 depicts the PeerMark interfaces of a student's work. The screen shot includes peer's "in-text comments" and feedback based on the 7 guided questions designed by the lecturer.
Fig 2. Example of a PeerMark Interface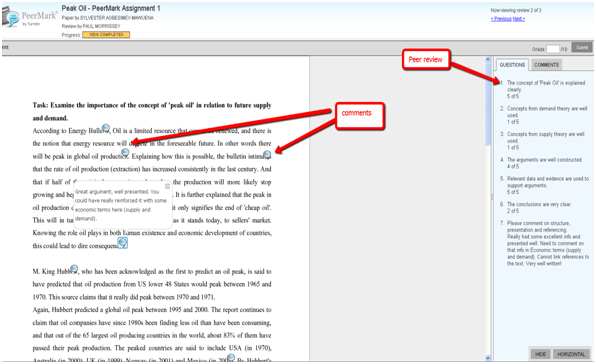 After the peer assessment, all students were asked to share their experiences voluntarily. Six students from the MBA cohort were video interviewed. Most students indicated an affirmative response that such an exercise not only enhanced the disciplinary understanding, it also enhanced the practice of critical thinking and understanding of assessment criteria. Three main themes emerged from the international students' voices with the use of PeerMark as shown in the Figure 3. Students found the exercise most valuable because they gained more understanding of the assessment criteria, and they learned a lot from other students' approaches to the assessment and thus were able to be more critical of their own work and critically use the peer feedback for improvement.
"It was part of the learning process to be self critical…I couldn't have been more critical!"
Compared to the previous undergraduates' experience in the home countries, postgraduates may have some cultural and communication barriers to studying in this country. Using PeerMark motivated students from various backgrounds to be active learners that promoted knowledge sharing, learning community and learning enhancement. PeerMark also reduced students' dependence on the lecturer as the only expert, as suggested by Liu and Carless (2006) as one of the benefits of peer assessment.
"I have got more knowledge from peer group concerning the subject against what I had before."
"It is good to have different views, from somebody in the same level as you, I mean not from the lecturer."
Fig 3. Positive Experience for PeerMark


On the other hand, there is an interesting argument that emerged from the students' voices in this research - one may complain that it is less convincing being marked by peers (indicating lack of confidence in peer's knowledge), whereas another may feel diffident in terms of marking peer's work. We believe that all postgraduates must have certain intellectual capability. We would definitely argue that such intellectual ability may vary from one to the other but that learning needs to be designed so that it addresses the different intellectuality to maximise the learning experience. It is no longer a matter of "being as capable as the lecturer" in order to assess others' work. Instead, it is about applying and practicing the capability through peer assessment. With such an exercise, the capability of academic judgment, the challenge of critical thinking and the facilitation of knowledge construction will be developmentally crystallised. This is very helpful to the postgraduates' learning experiences, especially their development for the professional workplace that requires these capabilities.
The results of this research demonstrate that the innovative tools, Turnitin, GradeMark and PeerMark can offer a better learning and assessment experience for international students. PeerMark facilitates a simple but powerful educational principle for international students, the ZPD. However, independent justification for providing peer assessment or making sense of received feedback is necessary. We further argue that a shared value system must be introduced to compliment the challenges of peer assessment – the diffidence. The Model of PeerMark's ZPD below, where peer review is used repeatedly as students progress through the course, is suggested as a method of putting into practice the shared value that evidenced by this project.
Fig 4. The Model of PeerMark's ZPD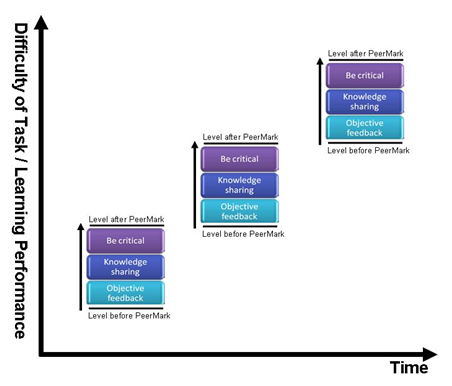 References
Alexander, P. A. (2006) Psychology in Learning and Instruction. New Jersey: Pearson Prentice Hall.
HEA (2011) Support Teaching and Learning - Internationalisation. The Higher Education Academy. Retrieved 26 Jan 2011 from: http://www.heacademy.ac.uk/ourwork/teachingandlearning/internationalisation
JISC infoNet (2009) Strategic Challenges – Internationalisation. Retrieved 26 Jan 2011 from: http://www.jiscinfonet.ac.uk/strategy-planning/challenges/internationalisation . Archived at http://web.archive.org/web/20100216174137/http://www.jiscinfonet.ac.uk/strategy-planning/challenges/internationalisation/index_html
Liu, N and Carless, D. (2006) Peer feedback: the learning element of peer assessment, Teaching in Higher Education, 11(3), 279-90.
NSS (2009) The National Student Survey. Retrieved 26 Jan 2011 from: http://www.thestudentsurvey.com/
Contributor profiles